SecurLock™ Equip
Giving you the power to control your debit card from your smartphone.
Set your card control preferences to match the desired usage profile for your own cards, as well as your dependents' cards.  Change them instantly when needed. All with a touch on a smartphone app!
Signing up for SecurLOCK™ Equip is quick and easy. 
 

Install the SecurLOCK™ Equip App

Select 'Sign Up Free'

Have your debit card in hand 

You will be prompted to enter your debit card information 

Your account billing address 

The last 4 digits of your social security number
Switch
Cards On and Off Instantly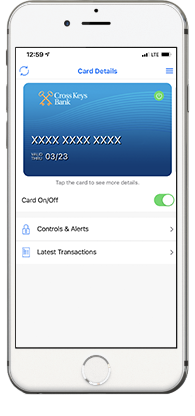 Turn your card on and off with a single touch. The status is changed immediately. With ultimate control comes peace of mind.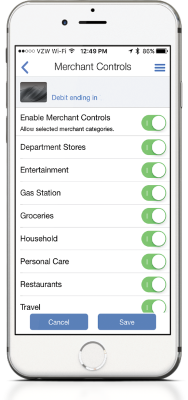 Choose Merchant Categories



Customize your card by setting permissions. You can specify merchant types to allow or deny transactions.







Customer Transaction Types 
Enable specific types of transactions depending on expected card usage. For example, if you do not shop online often you can disable Online, but turn it on instantly when required.



Review Transactions In Detail
Receive near-time transaction information. Tap a transaction to display the details,whether the transactions is pending, posted or denied.
Manage Multiple Cards
Monitor and manage your Cross Keys Bank Business Debit Cards by enrolling the card in the SecurLOCK™ Equip App. Businesses can save by adopting a solution that provides proactive control with instant monitoring.